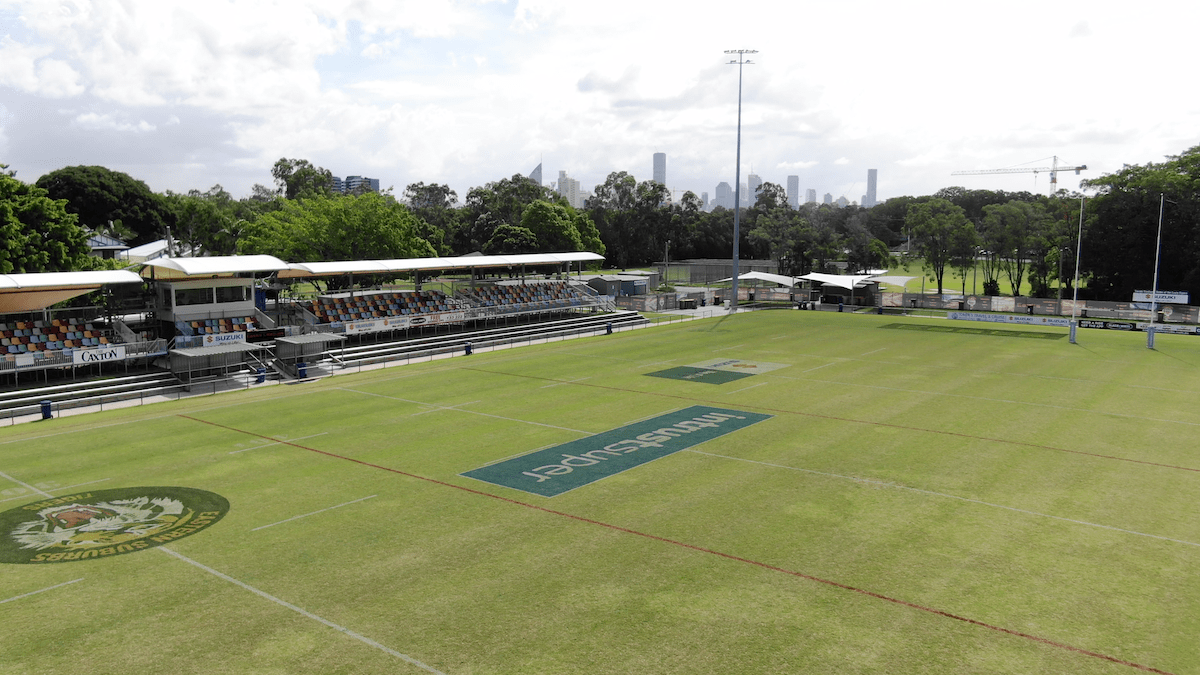 Totally Workwear Stadium, Langlands Park Panorama looking north east
DETAILS
Location: Main Avenue, Coorparoo QLD
Capacity: 3,500
Grandstand Seating: 580
Bench Seating: 1,190
Surface: Grass
Scoreboard: Electronic scoreboard, game clock and video located at the southern end of the Stadium.
Available for hire – Yes, Contact Us here.
FACILITIES
580 person undercover grandstand

4 x player change rooms

Referee change room

Canteen

Can Bar

Undercover grandstand

1,190 person bench seating

Gymnasium

Merchandise Shop

Leagues Club

Car parking

Media Box

Kids Activities

Warm up area – Chadwick Oval

ATM – ATMs are located at Easts Leagues Club, Stones Corner and Coorparoo shopping precinct. There are no ATMs located in the Stadium.

EFTPOS – EFTPOS terminal is located at the Merchandise Shop.
TRANSPORT
Bus – Langland's Park Bus Terminal is a 400m walk from Suzuki Stadium
Rail – Buranda Station is short walk from Suzuki Stadium.
Carparking – Car parking is available at the Stadium but is limited.
EASTS LEAGUES CLUB
Hours of Trade
Sunday to Tuesday 10am – 11pm
Wednesday & Thursday 10am – Midnight
Friday & Saturday 10am – 1am
Website: Easts Leagues Club
Responsible Gambling Mission Statement
Easts Leagues Club is committed to ethical & responsible behaviour that recognises the importance of our members' and patrons' wellbeing with a focus on minimising the potential harm of gambling.
Responsible Service of Alcohol
Easts Leagues Club practises the responsible service of alcohol. Failure to comply with current Qld Liquor Licensing Laws will result in being asked to leave the premises.
Entry Requirements & Dress Code
It is a condition of Easts Leagues Club License that all members present a current membership card for inspection every time on entering the club. No exceptions.

If you do not have your card on you check with reception in case you left it behind on a previous visit. If we don't have it than you must sign in on the visitors book.

Day Wear – Neat, clean & suitable attire must be worn at all times.
Evening Wear – Smart, casual attire must be worn at all times.

Hats are to be removed inside.

Rubber thongs are not permitted.

Swimwear, singlets, sleeveless shirts & T-shirts with obscenities are not permitted.

Suitability of dress standards remain at the discretion of management.

Unruly & disruptive behaviour may result in automatic expulsion & suspension.