Club Captain Matthew Zgrajewski models the Tigers Pink Strip.
Join us this Sunday 12 July at Tapout Energy Stadium for our Kim Walters Choices Day. The Tigers will be wearing special pink jerseys for their Round 18 Intrust Super Cup fixture against the Ipswich Jets.
The Club will be selling Kim Walters Choices merchandise, collecting donations and selling raffle tickets to raise much needed funds for The Kim Walters Choices Program. Choices is a free community service available to any individual diagnosed with breast or gynaecological cancers. Families and friends of those diagnosed are also welcome.
It will be a special day for the Tigers as Kim Walters' sons Billy will be lining up for the Tigers in the Intrust Super Cup side at 1.40pm, whilst Jack will be playing for Normanby Hounds in the BRL A Grade fixture at 11.45am.
Come and help us get behind this great cause. We would appreciate your support.
Kim's Story
The Wesley Hospital Kim Walters Choices Program (Choices) was launched in 1998, as a legacy of Kim Walters and her vision for support services for women diagnosed with breast cancer. Kim Walters was diagnosed with breast cancer in August 1996, whilst pregnant with her third child. She immediately underwent surgery to remove the cancerous lump in her right breast, but chose to delay chemotherapy until after the birth of her child, Jett. During and after the treatment phase of her breast cancer journey, Kim found great support from other women who had personally experienced breast cancer. Like so many others, Kim found a level of understanding and comfort with these women, which she believed greatly helped her on her journey. Sadly, Kim lost her 18-month battle with breast cancer in February 1998, at the age of 30. However, before she passed away, Kim expressed her desire to establish a community service which would provide help and support for other women with breast cancer. Kim's dream became a reality on March 16 1998 when the Choices program was launched at The Wesley Hospital in Brisbane, by her husband, patron of Choices and former Brisbane Broncos captain, Kevin Walters. The Choices Program is a tribute to the courage and strength of not only Kim Walters, but also the countless other women who have experienced breast cancer. It provides support, counselling, information and therapies to women and men diagnosed with breast cancer, and their families.
The Wesley Hospital Kim Walters Choices Program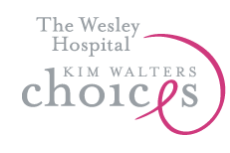 No one is ever prepared for breast or gynaecological cancer, but at The Kim Walters Choices Program (Choices) our experience helps us support you through the emotional turmoil and difficult decision making process following your diagnosis. We understand that everyone is different so we will work with you to select the aspects of our program that best suit you.
We offer you, your family and your friends access to a network of professionals, volunteers and others affected by breast or gynaecological cancer – who you choose to interact with is your decision. Our programs are offered free of charge to everyone (regardless of where you are receiving treatment) and they aim to improve the quality of your life.
You do not need a referral, just call us on 3232 6548 to make an appointment, to find out further information about how we can help, or to share your questions and concerns with us.
We are here to support you.
But how exactly does Choices help?

We offer a toll free hotline and a drop in facility for women, men, their families and friends to receive information, sharing, friendship and support. Choices' inter-disciplinary team includes specialist nurses, peer support coordination, staff and volunteers with personal experiences of breast and gynaecological cancers, counselling and physiotherapy services – all who are expert in supporting families throughout their experience. This means those needing information are only a phone call or visit away from getting help from a friendly, professional team who can advise on everything from cancer treatment to wig fitting and everything in between, including:
Help with making important decisions about surgery and treatment
Connection with breast care nurses, women's health nurses and peer support
Coordination of support groups to bring together those who can share their similar personal experiences
The provision of complementary therapies designed to counteract stress and provide relaxation
Post-surgery exercise classes designed specifically to improve range of motion and strength after surgery
Advice about broader life-related topics including stress management, sexuality and fertility issues, survivorship, menopause, exercise and nutrition
Plus a diverse range of additional support services including but not limited to a rural and regional workshop program, wig and turban library, and community education presentations to schools, clubs and businesses
Choices is open from 8:30am to 5:00pm Monday to Thursday and from 8:30am to 2:30pm on Friday.
Telephone: 07 3232 6548