Frank Ponissi
Who is Frank Ponissi? Ponissi is the Melbourne Storm's football director who is in charge of overseeing the functions of club and also reports
the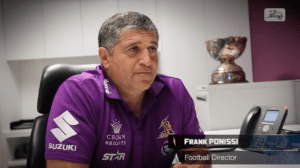 strengths and weaknesses in partnerships with feeder club's, and has been a strong follower of Eastern Suburbs Tigers coming up on our six season.
A club that we've enjoyed [a] great relationship since …. first season 2011
Each week over the year, players who are not playing NRL are sent up to train with the Easts boys to complete the amalgamation process in drills and training, and then sent back down to the Storm to keep the intensive training process of the facilities in Melbourne.
Check out this video for the full interview
[embedyt] https://youtu.be/-W2VeGI7_7I [/embedyt]
Namable Players Michael Kai and Billy Walters