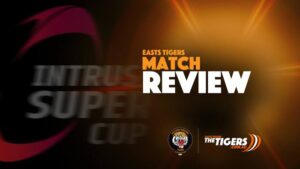 Norths Devils v Easts Tigers
Bishop Park, Sunday 3rd July 1:40pm
by Matt Crowhurst
It's one of the most over used clichés in sports and it has rarely applied as aptly as it did on Sunday, when the Easts Tigers beat the Norths Devils 40-16 in a game of two halves at Bishop Park.
The teams traded attacking opportunities in an action packed first half which saw them go to the sheds with the scores locked at 10-all. The Devils were probably unlucky not to lead at the break having thrown plenty at a rock-solid Tiger's defence which repeatedly denied them.
It was the Tigers who opened the scoring, in 21th minute, when Whetu Austin cleverly batted back a Brentt Warr kick for Dane Chang to score.
The Devils responded in the very next set with Todd Murphy drifting across the field to link with second-rower Harry Pondekas, who in turn passed to Shaun Carney for the quick catch-and-pass to put winger Maeli Seve over in the right hand corner.
The Devils really lifted once they had scored and were in again in the 36th minute when Sean Yorston put on a precision pass for a hard running Luke Pollock to score. Todd Murphy converted, as he did all day, to take the score to 10-6.
However the Tigers were not done. Tommy Butterfield sparked them in the last set of the half, linking with makeshift half Luke Lavelle who found Whetu Austin with just enough space to set Dane Chang free for his second try in the right hand corner, taking the halftime score to 10-all.
The game remained deadlocked for the first 14 minutes of the second half, though the Tigers second phase play, thanks too off loads from Matt White, Matt Zgrajewski and XXXX Man of the Match Jake Foster were starting to wear the Devils defence down.
In the 54th minute the Tigers finally exploded, big runs by Chang, fellow winger Leon Ellia-Niukore, Tom Butterfield and Jamie Anderson had the defence reeling. Warr found Jake Foster who, running wide where he is his most dangerous, off loaded for Jacob Paul to score.
Brentt Warr then did what he does best, running with the ball in hand and stepping to mesmerise defences. He scored and converted his own try to extend the Tigers lead to 22-10.
This Tigers team is far too experienced and disciplined to give up a lead like that and tries to Matt White, Tom Butterfield and Javarn White followed in quick succession, as the Tigers romped away with the game. Along with Foster and Warr, the Tigers big wingers Chang and Ellia-Niukore, rake Tommy Butterfield were superb and must have given the man of the match selectors much to think about.
Prop forward Jai Arrow, returning Devil Shaun Carney and Todd Murphy were amongst the best for the Devils, with Arrow in particular making plenty of metres with the ball in hand. Murphy's kicking game, when he got the chance to use it, was top class and he showed why he is back in the Bronco set up.
Murphy had the final say in the game when he bobbed up on the right had side of the Devils man to create an extra man in attack. He took the ball, straightened, ran and scored. He also slotted the conversion to take the final score to 40-16.
EASTS TIGERS 40 (Dane Chang 2. Jacob Paul, Jake Foster, Tom Butterfield, Javern White, Matt White tries. Brentt Warr 6 goals) def NORTHS DEVILS 16 (Maeli Seve, Todd Murphy, Luke Pollock tries. Todd Murphy 2 goals).
Final Teams:
Norths Devils: 1. Shaun Carney 2. Jarryd Dodd 3. David Faamita 4. Luke Pollock 5. Maeli Seve 6. Sean Yorston 7. Todd Murphy 8. Billy Solah 9. Jack Miers 10. Jai Arrow 11. Harry Pondekas 12. Matiu Love-Henry 13. Jayden Berrell 14. Liam Tyson 16. Tristan Lumley 17. Rez Phillips 19. Paul Steele
Easts Tigers: 1. Javarn White 2. Dane Chang 3. Whetu Austin 4. Jacob Paul 5. Leon Ellia-Niukore 6. Brentt Warr 16. Luke Lavelle 8. Francis Tualau 17. Slade Griffin 14. Matt Zgrajewski 11. Jake Foster 12. Matt White 13 John Puna 7. Jamie Anderson 9. Tom Butterfield 10. Shane Gilham 15. Mathew Pitman.